Mondial 125 Cross MkIII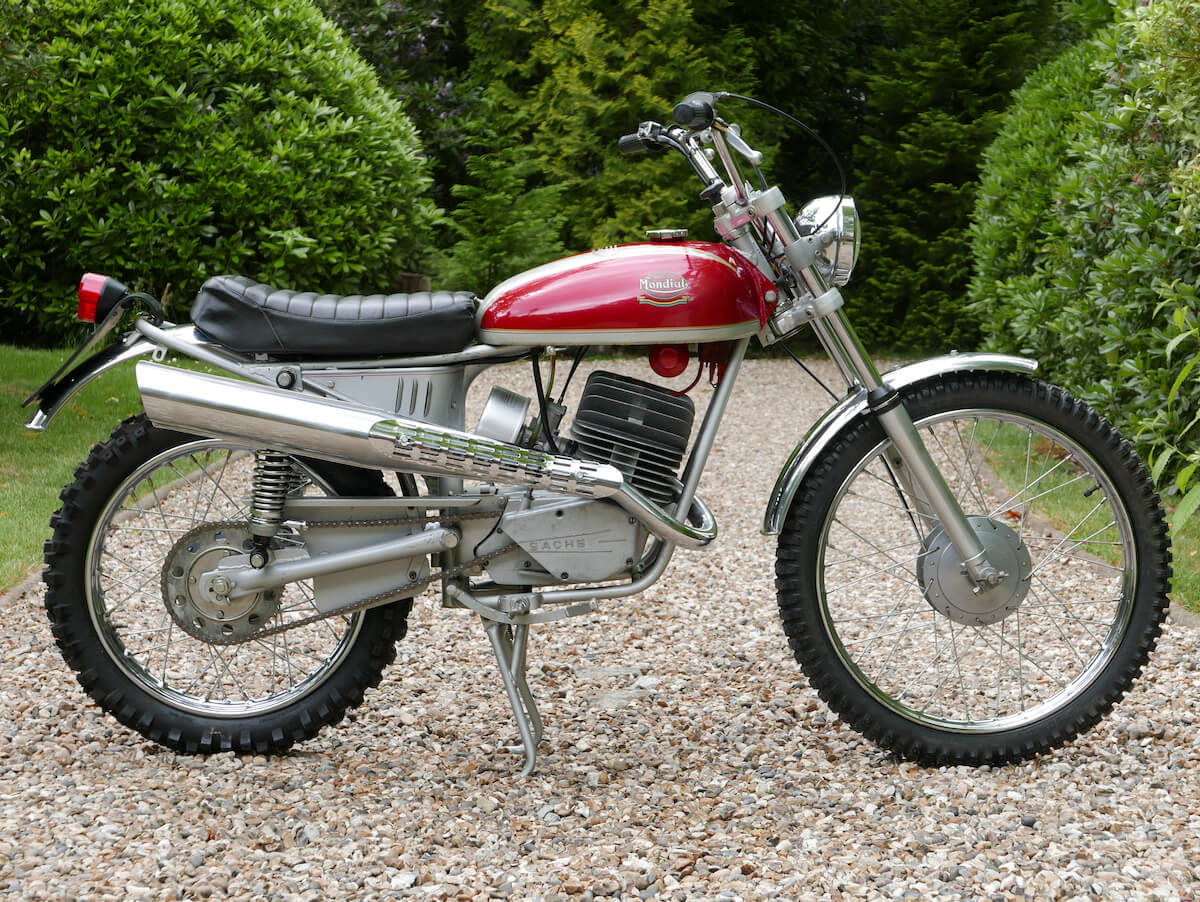 Model:
125 Cross MkIII Radial
This is personal. Anyone who was in their teens mid-70s will relate to this. Any sixteener who went for an Italian moped instead of the UJM (Universal Japanese Moped) was buying with their heart not their head, lusting for good looks and the extra performance to be gained by light weight and two-stroke tuning. You will get this motorcycle. Old 'crossers will get it. Ex Garelli Tiger Cross/ Fantic Caballero/ Gilera Trail owners will get it. DT 175 fans might just get it. Just look at the lines, the lack of anything except frame and magnificent radial-finned two-stroke engine, even the agricultural welding and bracketry has it's own charm. And as for condition, well it is a new machine without doubt, clearly stored for years somewhere dry and dusty. Original paintwork everywhere, original chrome, original everything. The Sachs engine now runs beautifully after some time spent in our own Classic Bike Workshop and we will have lights wired and working for the new owner. The seat is away at our upholsterers for new cushioning. Currently unregistered but will be supplied UK registered on an age-related plate, you could be the first UK owner. This is not a lot of money for a genuinely rare Mondial in NOS condition. Yes, there is some light surface corrosion in places and the paint has faded a little from new but it's a fine and unusual example of a mid-1970s two-stroke trail bike, preserved without use, almost a museum piece but will be so much fun to use.
The history of this machine is a bit of a mystery; the model itself is not well documented and this particular example raises questions which will be interesting to answer in time. Described as "…discovered in a garage in Tuscany, Italy in 2008. It had been purchased by the owner, ridden once and then placed in the garage where it would remain for the next 45 years, the engine being turned over regularly" but this story has some holes in it. Inspection under the seat reveals the original wiring loom but nothing much connected except the ignition circuit, suggesting it may have been run but never used on the road as the lights, horn and kill switch were ineffective. The carburettor also had a collection of parts in it that didn't work, as if someone had put it together with whatever was lying around. It looks to me more like it stood in the back of the factory unfinished for years and was sold off with some others as there is currently another in the UK and one in Italy, all in similar condition. Who knows? If you do please get in touch and solve the mystery.