Honda Four classic racer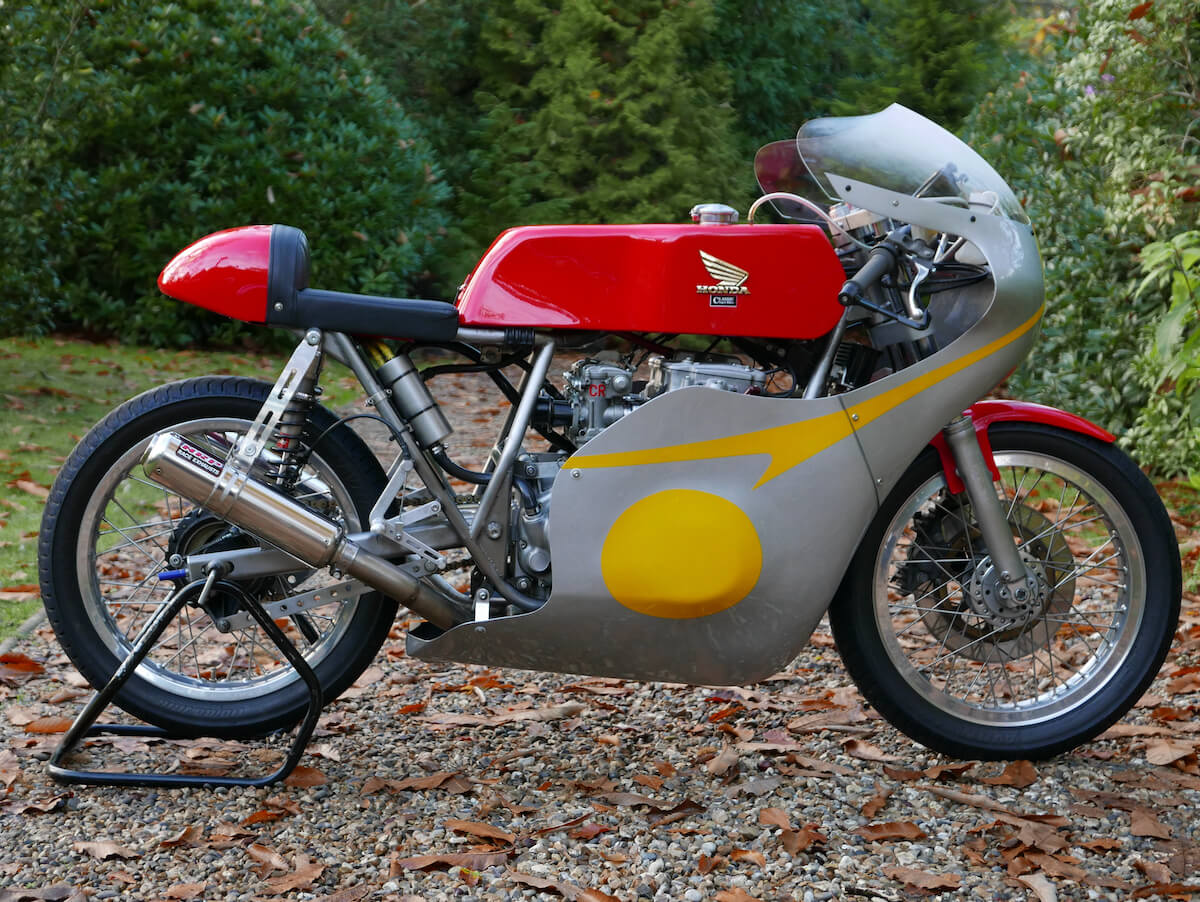 Model:
John Davies Motorsport 600cc four track bike
CSB's very own CRMC registered track bike, fresh from the workshop after a top-end rebuild and running better than ever. Absolutely massive spec but it's basically a John Davies Motorsports chassis and cycle parts; some new and unused like the rear-set footrests and fairing freshly painted by Dream Machine. We bought the bike as an ex-racer which had been converted into something  slightly more relaxed and reliable for track day use rather than competition. So it's a 500 Four engine with modified 550 cylinders and a 650 head for the bigger valves. The lightweight racing crank and bottom end were retained and remain in perfect condition, the top end was bored and rebuilt with new pistons and rings, the head refurbished too. The recent rebuild replaced the cam-chain and tensioning system, all the cylinder studs and involved re-timing the valves and re-engineering the compression ratio to optimise performance without sacrificing reliability. It's been in the workshop for almost a year and while it was there we kept spending money on it, and we are so proud of the result. It was always a pretty bike but now it goes as good as it looks (albeit only road tested so far) and now bears detail inspection. It's mechanically nice in all areas now, not just the headline items like smoothbore Keihins and Nova 6-speed racing gearbox. Look at the fittings, all the little John Davies extras that make it special like the superb clutch conversion, new AP Racing front brake parts, new larger oil cooler…
The plan was to sticker it up with CSB logos (we asked Dream Machine to leave the HONDA off the otherwise classic scheme) and go classic track-daying but since the Covid mess I've got into classic trials and acquired an early R1 track bike so the chances of this machine ever getting much use seems less likely than planned. So here it is, don't really want to let it go but it deserves to get more use than it will in my hands.