Norton Rotary Prototype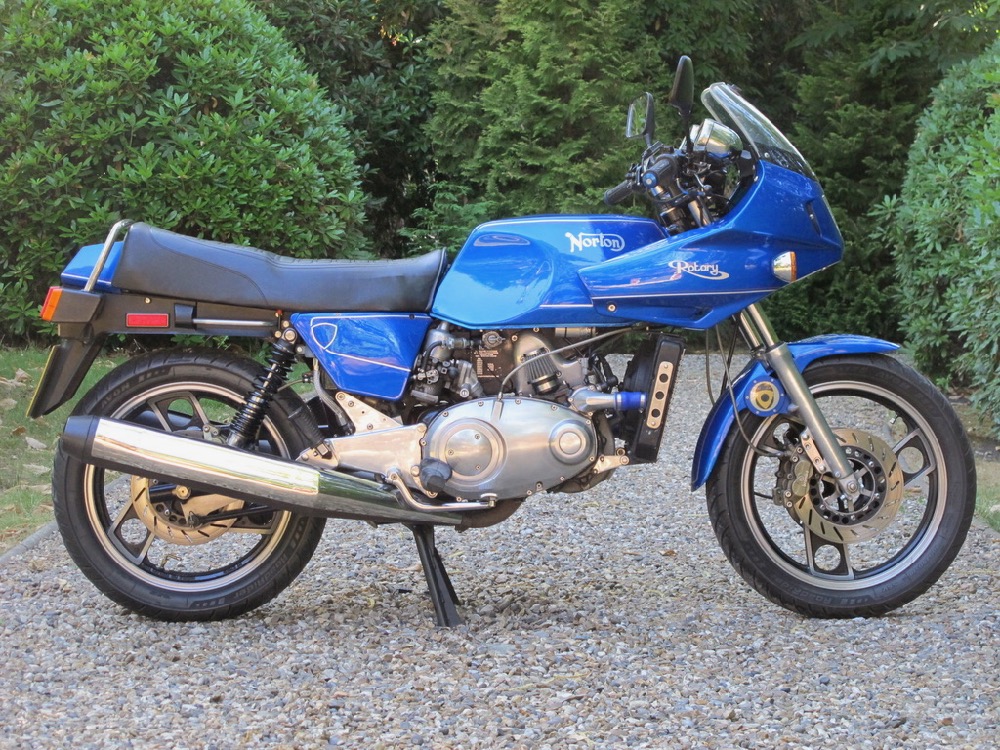 Model:
Aurora R1010 Prototype
The R1010 (ten ten) prototype machine is well known in rotary circles (sorry) and it's featured in Real Classic magazine issue 60 so it's history is well documented privately and publicly. First registered in 1979 this was one of the first batch of "production" rotary engined machines; the model originally known as Aurora. It was intended to replace the Commando, as was the rather more conventional but ill-fated twin-cylinder Challenge. The Aurora launch never happened of course and the early batch of machines were rebuilt as police Interpol 2s and many are still out there. This one; frame and engine number R1010; was the exception and remained at the factory as their testbike for future developments. It's a long and well documented story, all of which comes with the bike and is folklore amongst rotary owners, which resulted in the bike being fitted with a water-cooled engine and many non-standard parts you see still on it today. After it was sold by the Shenstone factory it was improved in the ownership of an enthusiastic and competent gentleman who transformed it pretty much into the excellent road bike you see here. It was then owned by the journalist and rotary enthusiast Frank Westwood for a while and since then has been in a collection of rare motorcycles to be sold by Classic Super Bikes. Historically significant, perfectly rideable and must be a good investment as well as an interesting talking point. This machine currently resides in a small collection of unusual motorcycles and is ridden regularly after a complete mechanical and cosmetic overhaul. Many of the old factory parts and documentation have also been collected together and it could be put back to the last factory test specification if required. Not advertised for sale but will be made available to the right buyer at the right price so please enquire if you're interested.
Stop Press: this unique machine is back in stock, much improved in detail, new pictures to follow!