Triumph Dutch Army 350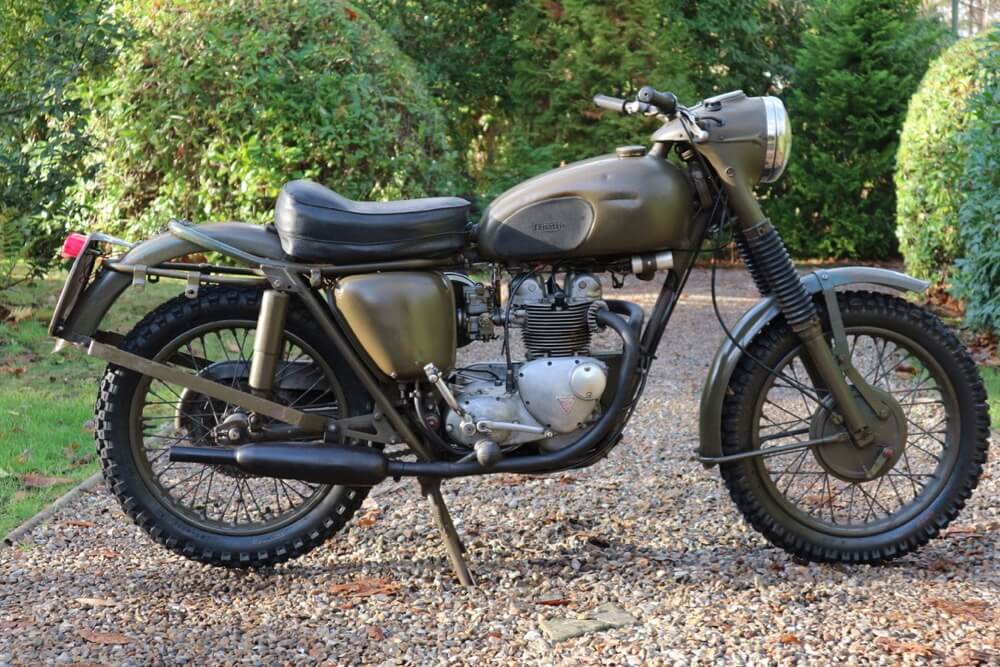 Model:
3TA Dutch Army model
There are lots of differences between a standard 3TA and this Dutch Army machine; all interesting and working in it's favour if you want a multi-purpose motorcycle with on and off road capability. The obvious differences are the colour, the single seat, siamese exhaust and pannier fittings but the detail modifications tell a story of significant improvement in many areas over the standard 3TA model. Look at the centre stand (higher and stronger) and likewise the side stand. The gearbox has wide ratios for off-road use and sips fuel through a simple and reliable Solex carburettor. Air intake is taken from up under the headlamp nacelle (look carefully and you can see the tube by the top front of the fuel tank) and the engine is protected by a bash-plate underneath. There are significant improvements to front and rear suspension; a better mounted swing-arm, different oilways and valves in the front forks (which can be filled from the side without removing the nacelle). Brakes are non-standard, as is the rear wheel mounting and there is more. This is a nice honest example retaining all the original features and it's UK registered ready to ride on UK roads or green lanes. Only about 1,000 of these machines were made and in 1988 they were sold off, many going for spares, making them quiter rare and very attractive now. Lots of fun and something different for less than £5k can't be bad.