Triumph Bobby Sirkegian Special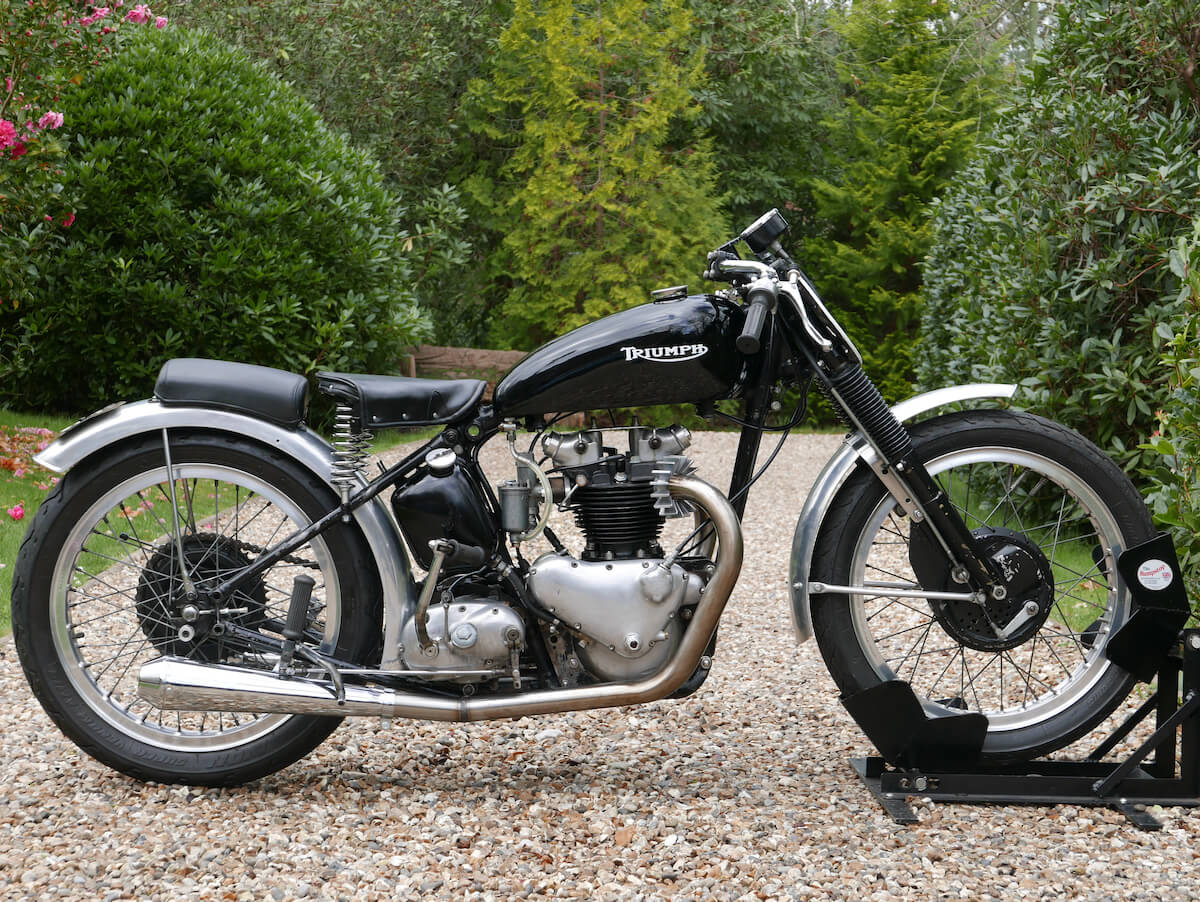 Model:
Bobby Sirkegian Special
Grab a copy of March 2019 Classic Bike magazine and read about how Bobby Sirkegian became a double drag race champion at the age of 12 in California. The bike was called "Pretty Boy" and based on a 1948 Speed Twin with a highly tuned 650cc engine. Read Gez Kane's excellent article and search the internet to find pictures of Bobby and his bikes, he's a motorcycling legend and this machine is our tribute to the racing scene of the early 1950s and particularly to Bobby and his father Bob senior who produced some of the fastest and best presented racing motorcycles we have ever seen.
So our question was… what to do with a project sprint bike half completed with a newly-rebuilt methanol-burning Castrol-R-lubed engine that had never been run before? It was bought as a sprint bike dream that wasn't really going anywhere. If we finished it who would want it and it wasn't pretty so we had a long think, picked up a copy of Classic Bike with a cuppa and BOOM! There was "Pretty Boy" and we could see the potential to build something really special. A lot of time/money/parts later and we are very pleased with the result. The bike is a very rare 1937 Speed Twin frame with original factory-stamped numbers and has been road-registered as such on an age-related historic number. The engine is a well-worked and very healthy 1952 6T originally supplied to G Turner & Sons in Alresford so it's local to us! To make it all work and look like Bobby's bike Gerry at Classic Bike Workshop has fitted a refurbished competition magneto built a very special matched pair of carbs with outside-mounted float chambers. The foot controls have been re-engineered around the position of the rear footpegs just like the original, and the low bars and flat seat pad give you a riding position just like Bobby had. Add to that a whole host of special parts like the timing-case driven chronometric tachometer with the cable through the front number board (just like the old pictures), the crazy finned exhaust collars and the new chrome mega exhausts (remove the reverse cone for extra noise and an even closer match to the original magas) and there you have it. Some of the sprinter-project parts have been retained just because they are so cool; the belt primary drive and bespoke cover and the large-bore stainless downpipes for example.
Not the most practical machine but we love it and it is fast! Will start on the kick but easier on the roller with those big carbs (replace with new ones if you want an easier life but these bitsas do look the business). Road registered but not road practical. Perfect for the Malle Mile or any hill-climb hooliganism, will turn heads at your local bike meet but make it local and daytime (no lights) or you might regret it. Or take it a stage further and show it as a faithful Sirkegian replica but we are proud of what we have created here: a mix of madness with practicality (using my imagination here) and a look so close to Bobby's race bike that it really is to die for.