Triumph Buccaneer #5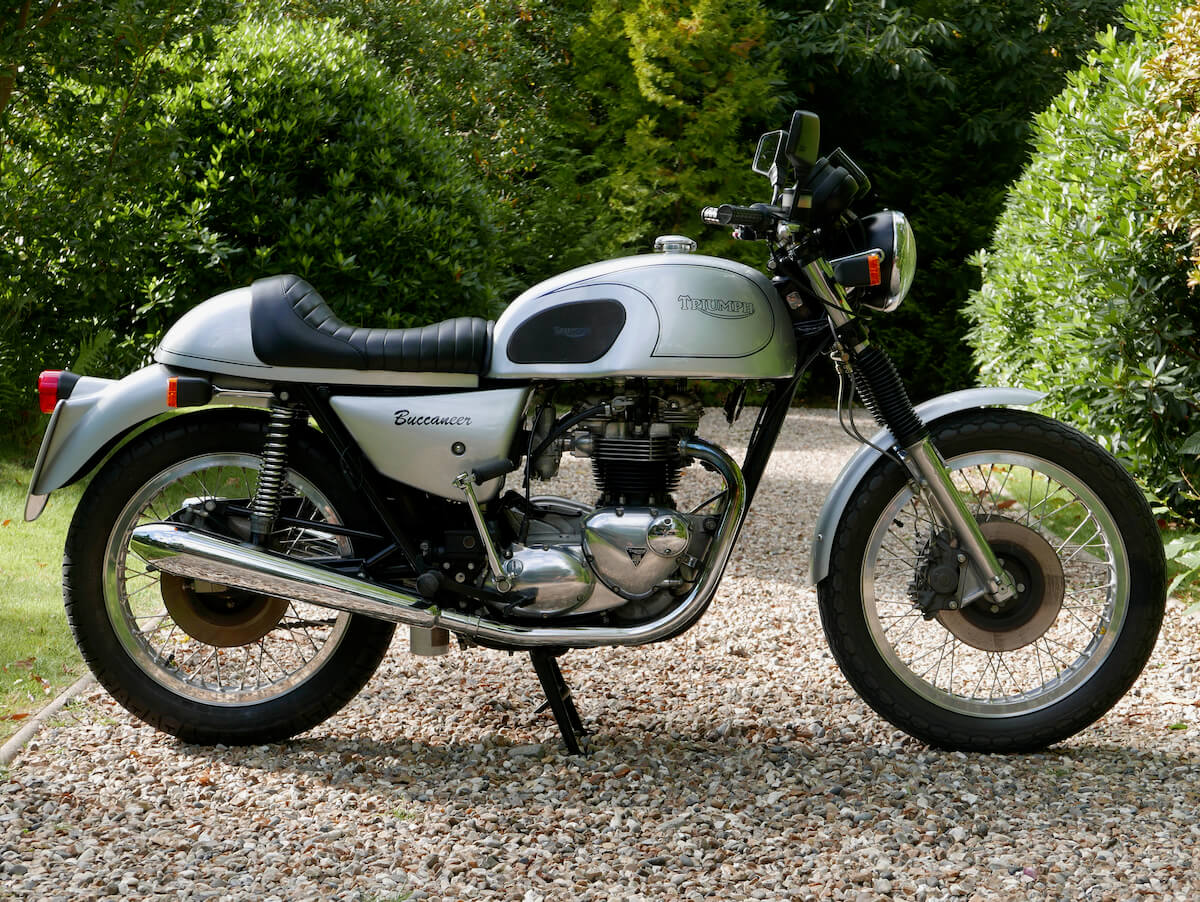 Manufacturer:
Triumph (Les Williams)
Model:
Buccaneer TR65 special
Condition:
Nearly Concours (2)
The word unique rarely has such relevance. Number 5 of less the few Buccaneers produced by the late great Les Williams is one of one in so many ways. Every Buccaneer built was different but #5 is special in that it was built by Les for Peter Miller who's name is engraved on the bike. Trevor Gleadall persuaded Les to produce a twin and he was so impressed with this bike he eventually bought the company, continuing to sell parts. This machine doesn't look or feel like any other Triumph twin we have experienced. It is pictured on the front cover of Classic Bike issue December 2016 and Gez Kane's description of how it was developed along the same lines as the Legend triple is taken from those pages.
"After three years of trial-and-error and refinement, the result was the Buccaneer. Not only was Trevor delighted with his bike, the Buccaneer has also turned out to be Les Williams' personal favourite from his own range. The Central style statement is made by the 3.95 gallon alloy tank, elegant Thruxton-esque exhaust system and neat glass-fibre solo race seat. And, like the Legend, the Buccaneer uses Magura switchgear, Paioli shocks and Lockheed racing calipers on all three discs. The extensive file of paperwork that accompanies this Buccaneer reveals that the bike had a brand new TSS- type crank fitted along with new pistons and alloy barrels with Nikasil plated bores, when it underwent its transformation back in 1990. The engine build alone cost £1,300 – a tidy sum back then – whiole the Buccaneer-specific parts cost another £1,700. As with the Legend the Buccaneer's riding position is all but perfect. The sightly rear-set footrests and only slightly raised handlebars prove a brilliant combination. Added to that the bike's lack of bulk makes it so much easier to flick from side to side. It's a single carb bike from the Les Williams era (based on a TR65 registered in 1985) and the engine is a revelation. There is just so much instant urge from the twin that I suspect there might have been a little extra work done – cams perhaps, or maybe some higher-compression pistons. Perhaps the stylish tipped-up exhaust is a little less restrictive than the standard set-up even though commendably quiet"
Gez was testing the bike with two Les Williams triples and he; as Les did himself; preferred this particular twin cylinder Buccaneer, which is quite a testimony to its performance and style. There is a nice history file which includes a copy of the original LP Williams conversion invoice listing all the work and parts and a collection of reference information on the Buccaneer including the one referenced above.