Egli Vincent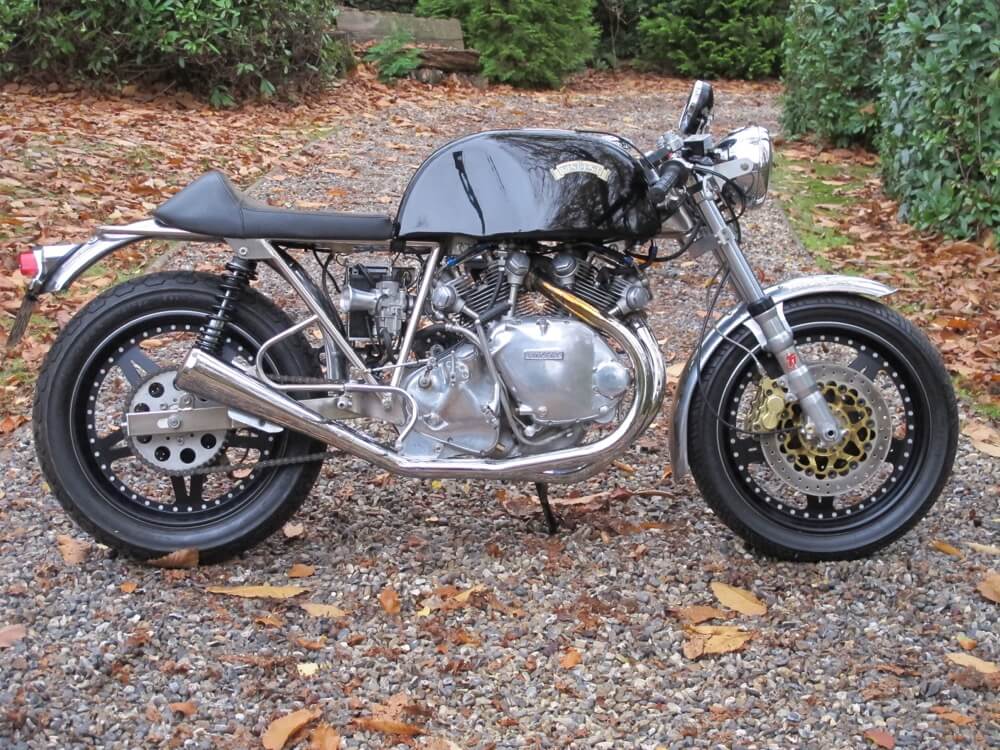 Manufacturer:
Cheney Egli
Interesting high spec. electric start Egli Vincent cafe racer.
Originally a sprint or road racing machine; the last owner for over 25 years can trace history back to when he first acquired the bike in poor condition, unregistered for road use. There is extensive documentation on file detailing the complete restoration and re-creation of the machine between 1990 and 1995 by motorcycle engineer; Roger Lye in Norfolk. The machine then went into a prestigious collection of valuable motorcycles but was rarely used until the owner entrusted it to Metisse Motorcycles, where it was worked on exclusively by ex-Vincent grasstrack racer; Roger Measer. The work at Metisse included nickel plating the frame and fitting a Grosset electric start, after which it went back into the collection and remained unused until now. Currently undergoing final fettling after being fully recommissioned by Classic Bike Workshop, this exciting example of Vincent V-twin engine and modern suspension and brakes will be ready to enjoy on road or track. About time we say!
The spec is massive: engine rebuilt with alpha bearings, 7.3:1 omega pistons and Lightning cams and a new gearbox. Brembo brakes, 42mm race-spec forks, Astralite wheels, beautiful alloy tank with quick filler and there are extensive handwritten notes and invoices describing the transformation from tired old sprint racer to fresh new cafe racer. The early history is unknown, despite requests by the last owner for information, but the V5C tells us chassis number RC121078 was first registered 09/04/1954 and the engine number F10/AB/12818 suggests 1949 manufacture. As far as we know Cheney was the only Egli manufacturer nickel plating frames so it may have come from him originally but it looks like it's been modified as the bike has developed.
The result you see now is more than a little bit special in many ways, and it will improve further as we ride and improve it. Lots of work just completed by Classic Bike Workshop including dynamo rebuilt, new reg/rec and electrics tidied, it will be sold with a new MOT ready to go. Now it's fully sorted it rides really well and sounds even better than on the video. If you're serious about owning an Egli Vincent of this character please call.