HRD 1000 Egli Cafe Racer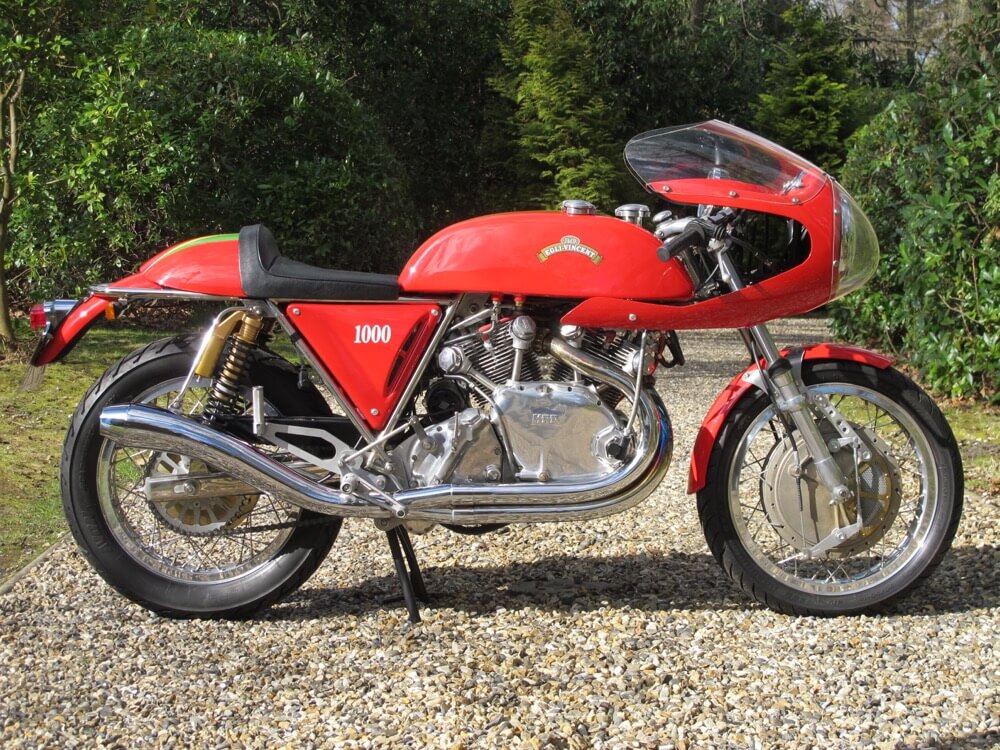 Model:
Egli Vincent Cafe Racer
Condition:
Nearly Concours (2)
One owner since 1967, reborn as an Egli Cafe Racer with electric start.
Effectively a new motorcycle in many important respects; this electric-start HRD V-twin has been built with no expense spared to the exacting spec. of a gentleman who was sadly too unwell to ride it by the time it was finished. The spec is massive and includes a completely rebuilt engine and gearbox, elecronic ignition, Mikuni carbs, top suspension and braking components and very high quality paintwork in Guyana's "golden arrow" flag design. On paper this is a matching numbers 1949 Rapide, complete with old logbook and original registration. You can hear the engine sounds mechanically like new, as you would expect. Starts on the button every time, idles smoothly and revs freely. A full road test will follow when the weather allows and we'll set the fuelling up perfectly for the new owner. The old log book shows two prior and one last owner, who acquired the bike in 1967 and subsequently housed the engine in Hagon and Norton frames throughout his long ownership, until recently having it built into the latest Egli-framed incarnation you see here. The three owners were all from East London so the bike has stayed close to home all it's life. The V5C correctly states all the right numbers on the bike and the last owner's details but says nothing of former keepers. There is a Dating Certificate from the Vincent-HRD Owners Club confirming it was a Series B Rapide and there is also a copy of the Works Order Form on file. Also on file are pictures of the restoration and rebuild with invoices to the value of £24,000 from JMR/JMC, Hailwood Motorcycle Restorations and recent work has been carried out by the Motorcycle Restoration Company. There is one area of imperfection on the otherwise well finished nickel plated frame and the bike comes with a dual seat in matching livery.