Honda VFR750R RC30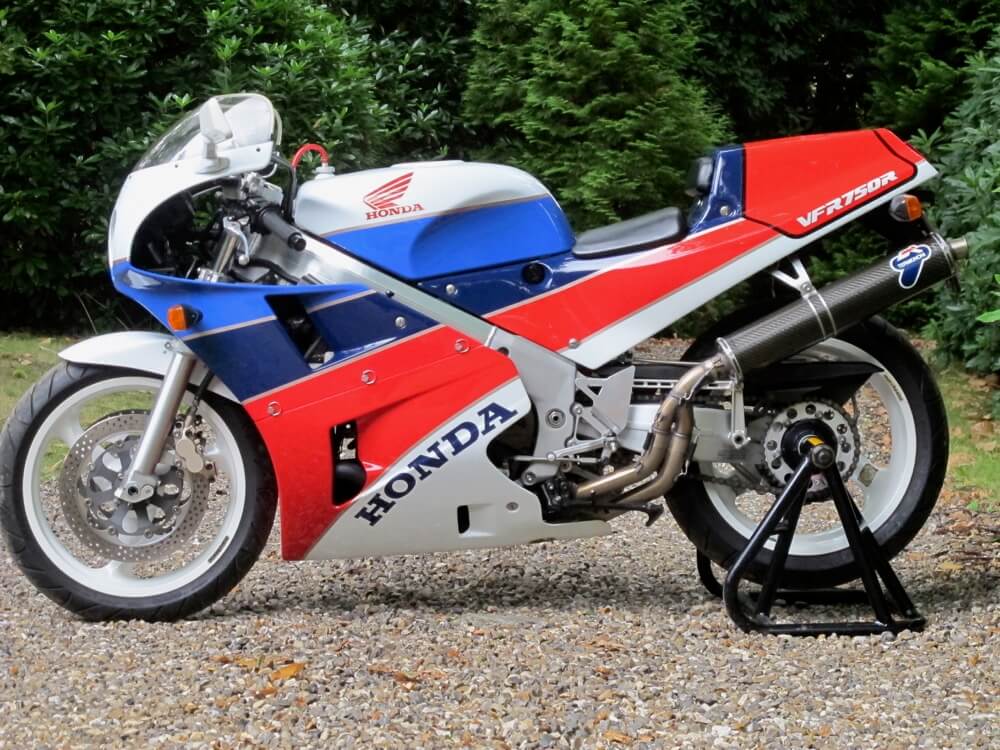 Condition:
Nearly Concours (2)
Very rare UK red-wing Honda RC30, low miles and owners, with original parts.
One of only 100 (or was it 101?) late red-wing RC30s to be sold in the UK this machine has only had three owners from new. Ownership history is simple and complete; one unknown for the first two years, Kenny from '92 to 2015 and John for the last year or so, both of whom I have met and discussed the bike's history in detail. Condition and mileage are explained by a long spell displayed in a museum in Scotland. The bike you see in the pictures has performance enhancements and is well sorted for fast road use in modern conditions. What you can't see is the boxes of standard parts from this bike that come with this bike, all in excellent A1 condition. Wheels and new tyres, three standard brake discs, a ride height adjuster, full standard exhaust system with headers, indicators, chain and sprockets and all the documentation listed below.
Performance parts fitted and fettled are as follows. Termignoni full exhaust system tuned with Dynojet kit for road use (no airbox chopping, easily reversed, just lets it breath). Marchesini magnesium alloy 17′ wheels to take a full selection of modern rubber (only one tyre is available for the standard wheels). The wheels are fitted with their own sets of performance discs and pads to preserve the original parts. A ride height adjuster is fitted to work with the wheel sizes and improve handling; a well documented and approved mod in RC owners club circles. Renthal sprockets and o-ring chain fitted to optimise gearing for the road and preserve the original low mileage parts. Suzuki indicators have been fitted to avoid the wobble of the originals which are considerably bigger and more loosely mounted. Again, the original indicators, as with all the standard parts from this very machine, are supplied with the bike. The paddock stand is with it too.
Owners maintenance manual in it's plastic plastic wallet, service book (stamped) with rider card as new, dealer setup instructions document, parts book and tool bag with some tools but not complete and two keys. The old V5 and the current V5C showing date of first registration 11/05/1990 and two former keepers, all in order. There is correspondence from Grampian Museum's curator Mike Ward regarding the time it spent on show there, with pictures of it on a display plinth and a copy of the description it was displayed with. Old service history is complete and recent service records are on file. The bike will be serviced again prior to delivery and the new owner has the option of taking the bike in standard spec. with the trick parts in boxes or as it is with the trick parts fitted and the standard parts in boxes. If we change them over and sell it to a rider we will have made a mistake and I guess if we leave it we are bound to sell it to a collector who wants it all changed over but it's no problem either way as we will give the carbs a clean and setup and service the brakes before delivery anyway. This work will be done by someone who knows exactly what they are doing so it will come running very sweetly indeed. We don't see them like this very often, an opportunity to ride and invest. Or it's a very good value standard bike if you sell the trick parts. Your call.