Yamaha XT500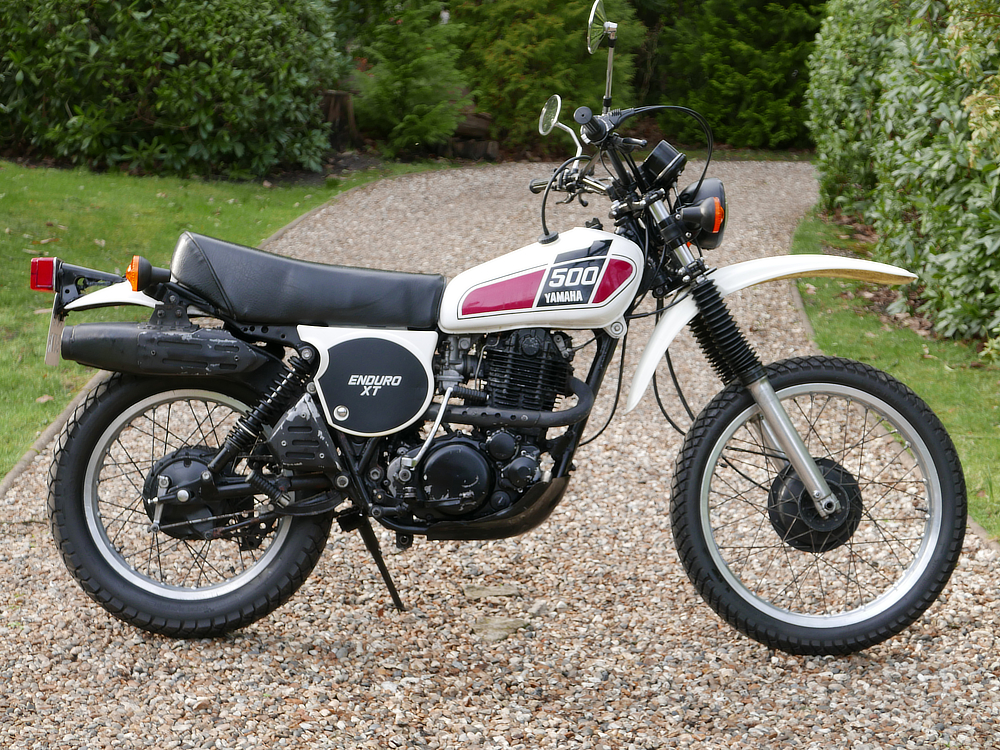 A nice old XT500 with history. Lots of recent attention, needs more.
There is quite a history with this bike. The last owner of 24 years had a replacement engine rebuilt by Eric Cheney around 1993/4 and Eric's invoice for the work (undated but the accompanying parts invoices date it) is included in the significant collection of documents on file. The MOTs on tell us that the odometer read 35k miles in 1996 so let's say the engine was rebuilt at around 30k miles and the reading is now almost 65k miles so it's 35k since the rebuild. Eric did a good job (no surprises there) and the last owners have ridden it with care and maintained it well but it is low on compression now so a top-end rebuild is needed. Condition is a bit scruffy to be honest and that's part of the charm; homemade paintwork on the tank looks great but it's not factory finish and although everything was covered in grease the frame paint is showing it's age in places. The rest is a mix of original, like the exhaust, and some new replacement parts like the front mudguard. Clocks are clearly original and showing their age but everything works as you would expect on a bike that has been ridden regularly. As you can see it's just had new adventure tyres fitted more suitable for road work and it's MOT and Tax free now of course. It has also recently been re-wired, electronic ignition fitted and various improvements made by Classic Bike Workshop for the last owner. Invoices for this work are now with the document file; it's probably had around £2,000 spent on it.
It's not the original matching numbers engine and it is tired now so the original matching numbers engine is available and can come with the bike for a price to be negotiated, depending on whether you want to rebuild it as it is or with the matching numbers engine. We haven't the workshop capacity to change the engine for the rebuilt original for the sake of matching numbers but call now and talk to us about how you might like it, as we are keen to see it find a new home. Could be a bargain matching numbers XT500 and a spare engine for a project for anyone with some time to make the most of it!