BMW R100 RS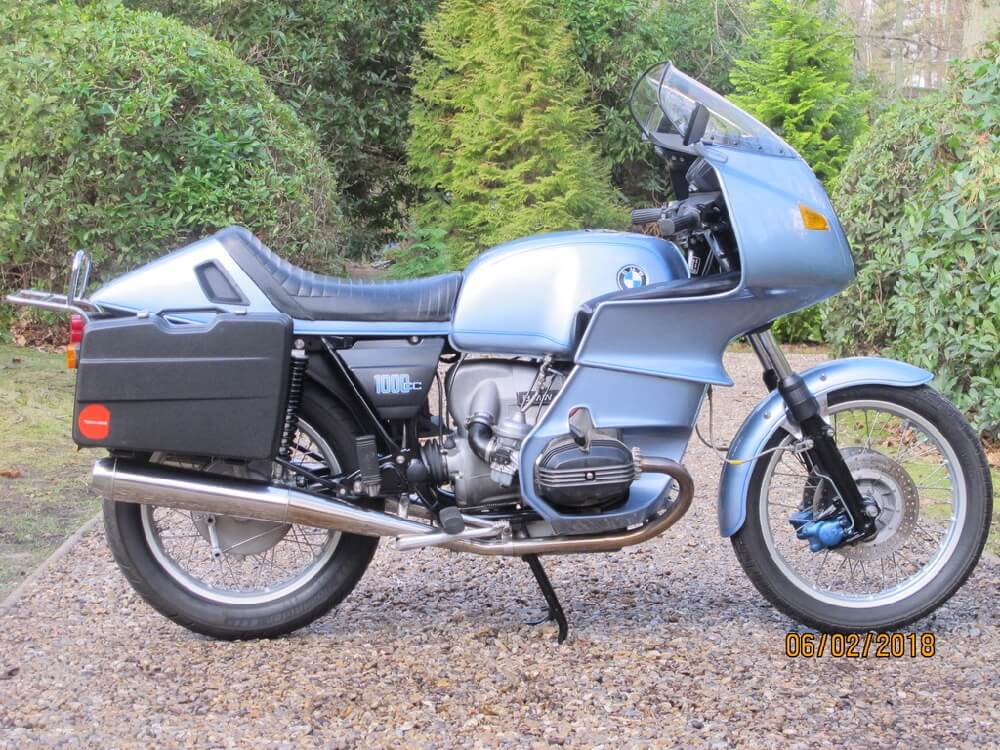 This very early R100RS is now back in stock and showing 51,430 miles in 2023.
An excellent example of the iconic BMW R100RS motorcycle manufactured in 1976, shortly after the models launch date. This is an early production matching numbers machine, that has known provenance and has led a pampered life with its 3 owners. Equipped with its original 3/4 sports seat, aluminium rimmed, wire spoked wheels, a set of Krauser Starlet panniers and some removable soft storage (From Bob Porecha a renowned BMW specialist) that fits within the fairing, it's in excellent condition, exhibiting some minor age related patina. The bike has one original BMW folding key, as well as a more recent spare and the tool kit and pump are still under the seat. The iconic original BMW clock still works and keeps good time. The original BMW brochure, Handbook, Technical Service book as well as a vast number of MOT certificates that provide assurance that the mileage of 51,430 is genuine.
Annual servicing has been undertaken by the last owner, including an oil service with Castrol Heritage oil in February 2023.  A powerful Odyssey PC625 battery was fitted in November 2022. Additionally, in 2018, (c3,000 miles ago) a full service, as well as replacement fork seals and a replacement clutch were undertaken by a well-known Classic Motorcycle mechanic. The bike is fitted with Keihin stainless steel exhaust system and Avon Road Rider tyres.
During its most recent ownership, the bike has been one of a small fleet of historic cars and motorcycles that are used when the weather is good. This bike is classed "Historic" by the DVLA and so exempt from Road Tax and should allow free access to major cities "ULEZ" zones. In many ways, an additional win/win for a bike approaching its 50th birthday.
When the bike was new, in 1977, the iconic Superbikes of the Seventies book, summarised a very positive article on the launch model, of this bike as follows: "With Honda, Moto Guzzi and Yamaha offering shaft drive, 1,000cc touring machines with dazzling performance figures there is plenty of choice for the mega-buck touring rider. But only BMW still offer a machine that is really different and practical for high speed use as well as having that touch of quiet exclusivity."
I think that summarises the bike very well and is still valid almost 50 years later. Please note 2018 pictures remain representative and the last three are current additions, the bike is now in stock and new pictures will follow shortly (they will be pretty much the same without the date).