Brough Superior SS80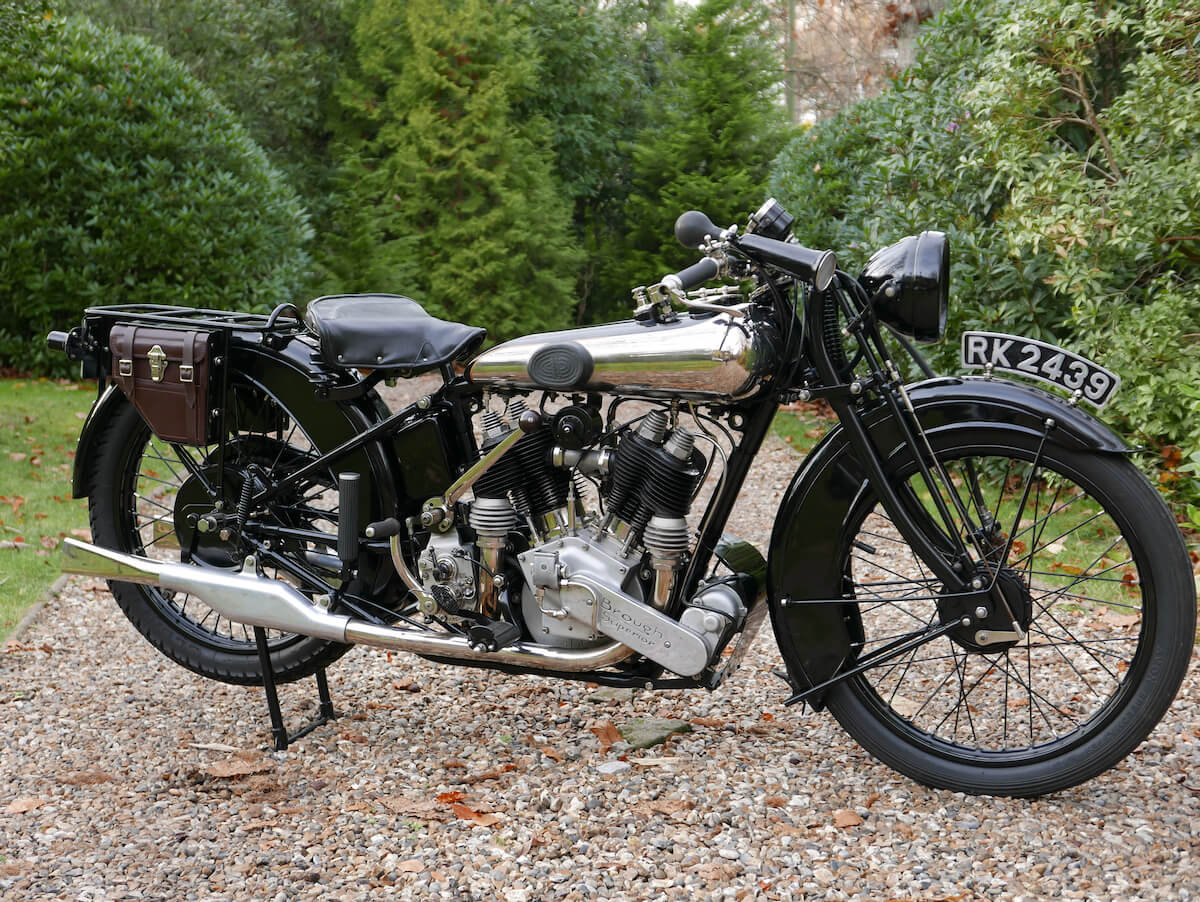 Manufacturer:
Brough Superior
Condition:
Nearly Concours (2)
Featured in the July 2021 issue of Classic Bike magazine, this fine machine has so many stories to tell and the latest instalment has just been added by the earliest surviving owner contacting us after reading the article. Obviously the magazine article itself and the owners comments have now been added to the history file. In a nutshell it was bought by 18 year-old Michael Braid in 1960 for £5 in 1960 and sold a few years later (without his knowledge or permission) by his father to make space in the garage! You really couldn't make it up.
The historical significance of this Brough Superior is hard to overestimate. Records show only 14 of this model in 1924. RK2439 is; along with TE Lawrence's RK4907 "George V" and known record-breaking machines; significant in that its history is well recorded in period photographs, journals and documentation. A fascinating collection of black & white pictures, magazines and original documents tell a story of pioneering travel in days where long road journeys were adventures to be celebrated. Highlights of this machine's almost 100 years are as follows. 
This Brough Superior SS80 was first registered on 31st October 1924 registration number RK2439 purchased from Allen Bennett & Co, Croydon by Frank Harvey for £75. Works records show frame number 178 was fitted with Brampton No.2 forks and electric lighting, as it is now. In June 1927 Frank rode the bike from Croydon to Inverness in 20 hours and this feat was reported in The Motor Cycle magazine on 6th September 1928. The article was entitled "Holidays for He-men" and the original route card and case survive with the bike, exactly as it appears in the photographs. The original photographs and the original magazine are in the comprehensive document file too.
Sometime between 1928 and 1952 the 986cc side valve engine number 98823/S replaced the original engine 16139 of the same specification, almost certainly due to the incredibly high mileage Frank Harvey was doing on the bike. This engine appears in works records for 1928 against another frame number but there are no records of this machine thereafter so it's possible that the engine was a direct factory replacement, in which case they may have been together since 1928. The engine drives through a three-speed Sturmey Archer gearbox and specification is correct for this 1924 model.
The bike appears in print again in a The Motor Cycle article "By Forest Pool and Harbour" published on 11th October 1928 and again the photographs and the magazine are on file. More photographs show us that by 1931 the bike has been fitted with Webb forks and a sidecar and The Motor Cycle article "A Tour to remember" published on 20th August 1931 shows the bike again, probably the year of a tour of France. On 24th March 1932 The Motor Cycle published an article entitled "The Garden of England" with photographs of RK2439 used to illustrate articles by IXION. In 1933 the bike appears in The Motor Cycle magazine again, this time in an article entitled "In the Vale of the White Horse" published 1st October. In 1938 the bike was ridden in Germany before the outbreak of WW2 and the file contains a fascinating letter from Elizabeth Harvey to her husband Frank at this time.
In 1952 after continuous use for 28 years the bike was loaned to an American friend who crashed it, after which it was acquired by William Verrell of Croydon and sometime later sold to Mr Braid. Presumably never rebuilt after the crash, it fell into the hands of the Brough Club and was purchased from them by Dan Keen on 26th October 1972 for the sum of £25. It lay in a shed for 24 years until in 1996 an eleven-year restoration and complete rebuild were embarked upon. Mr Keen called upon many Brough people to restore this magnificent machine, including Dave Clark (then president of the Brough Superior Club), Tony Leedal and many others. The original registration was never lost due to the excellent documentation that survives with the bike and includes the old RF60 logbook, confirming beyond doubt that the numbers are correct.
In 2012 the current owner acquired the bike and finished it to his high standards, which included fitting a Cowey speedometer, again correct for the period and a beautiful finishing touch. The bike was entered No.131 in the Banbury Run of 2013 and won the Brough Superior bike of the event award (see picture and copy on file). Since then it has been used infrequently, and has just been recommissioned and finely fettled to perfection at Classic Bike Workshop. The fuel tank has been refurbished inside, some very minor painting and finishing perhaps still to do to bring up to concours condition but it's here to view now and ready to ride.
A truly significant historic motorcycle presented with impeccable provenance and in fine mechanical fettle. It'll be hard to find a nicer one than RK2439 and it is 100 years old in three years time!