BSA DBD34 Gold Star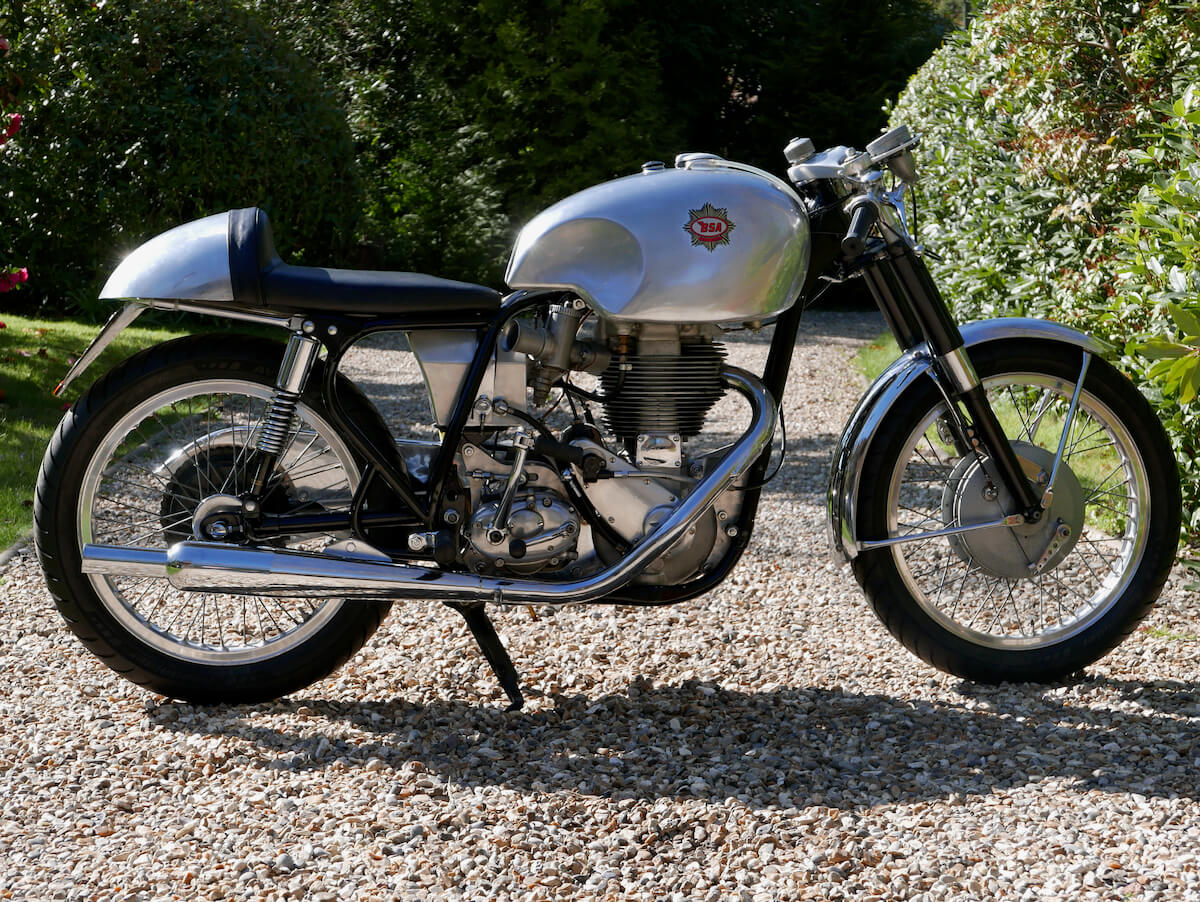 Model:
DBD34 Gold Star Clubman's
An absolutely charming example of the purest of Gold Stars. A matching numbers 1959 DBD34 complete with the original RF60 Log Book and the BSA Factory Certificate of Performance to prove it was and is a real Clubman's model from new. It was fitted with a racing exhaust system and racing wader mag and these are noted too. All the information is there, tested on 03/04/1959 and issued on 07/04/1959. First registered on 1st May 1959 by dealers Glanfield Lawrence of Highbury, less than a month later it passed into the hands of a gentleman who would own it for 62 years until the first keeper on the new V5C bought it in 2015. So no former keepers on the V5C registration document and it retains its original registration number. Provenance is confirmed by letters from the BSA Owners Club The bike was used only occasionally in its later life and has clearly been well looked after. The document file has some absolutely wonderful letters and period parts catalogues along with original factory maintenance manual, spares book and full workshop manual. The owner's transformation into pure Clubman's racer is clear to see and many of the original parts are still with the bike including oil tank and side panel, magneto and dynamo, float bowl (biscuit type fitted) and others. The beautiful Lyta Works alloy fuel tank still has the badge on and the story of its supply is documented in the form of letters from 1966-1978. Many of the rare and beautiful parts were supplied by Taylor-Dow (Eddie Dow) and their catalogue from 1963 is in the file too (telephone 4287 two lines!).
According to the previous owner the engine was tuned or looked after by Motte & Ward (well known for tuning singles) and it remains today in the specification created over so many years. In addition to the alloy tank and matching seat, points to note are the central alloy oil tank, Dunlop alloy rims (fitted with new Avon Roadrider tyres), full width front hub, GP carburettor and of course a close ratio RRT2 gearbox. It also has a Superlegara front fork kit fitted with steering damper. The bike is fitted with an early magnetic Smiths ATRC tachometer and there is a Smiths chronometric speedometer in the parts box. So many trick bits!
Lastly a true story (undocumented sadly) about this bike. Giacomo Agostini tried it for size in the 1960s at Brands Hatch when the longterm owner met and chatted to the great man. We're not sure if he rode it but we think he would have approved. It is is very good mechanical condition and performs extremely well with no fuss or bother, no smoke or nasty noises, just that amazing Goldie exhaust note. The mega exhaust is still in the box and that's where it's staying but can you imagine the noise that would make? Dreams are made of bikes like these and you can live the dream for less than the price of a modern superbike, which will depreciate like a stone whereas this is an appreciating investment. It really is the real thing.