Norton Commando 850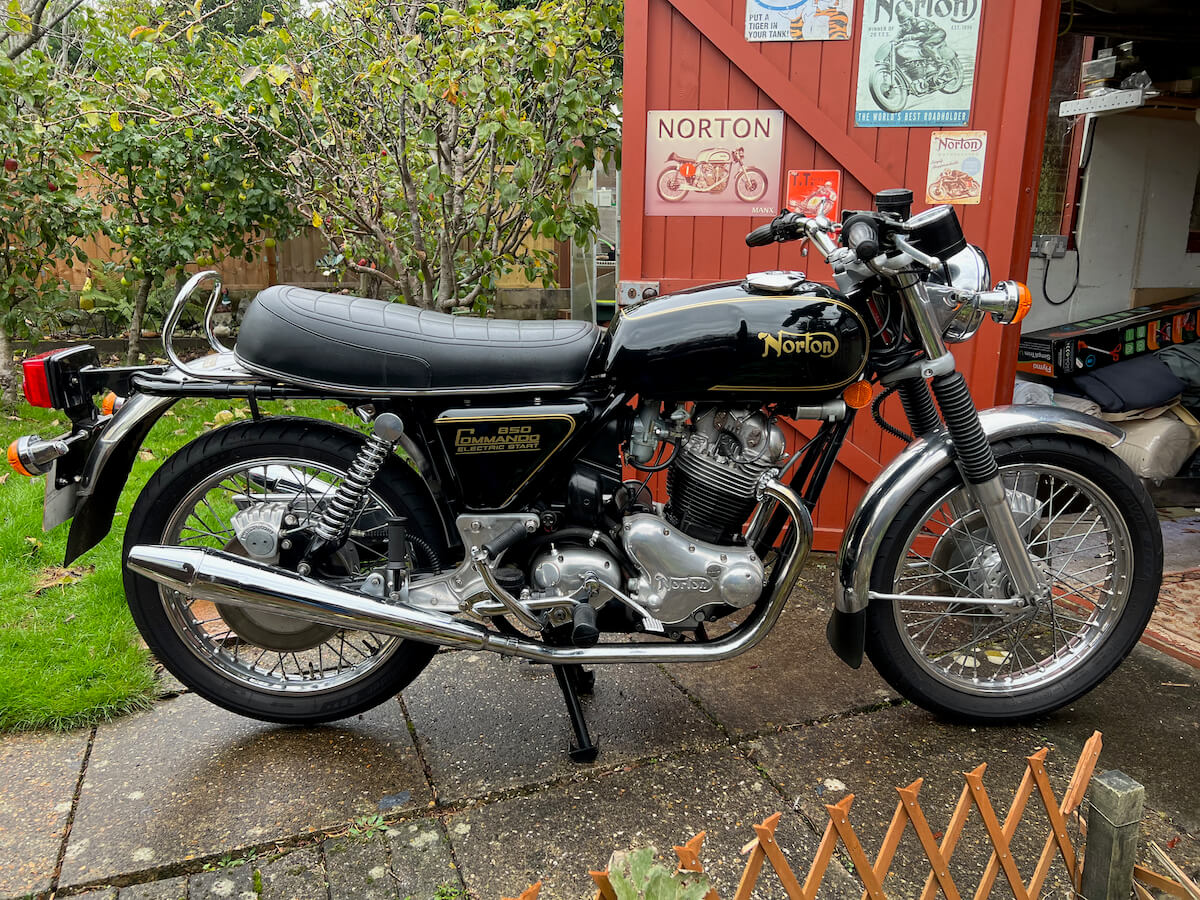 Model:
Commando 850 Electric Start
Electric start Commandos don't come any better than this one. A unique and interesting history makes it a compelling buy for anyone wanting a bike to ride and show with provenance and an important historical story to tell. A local bike to us here on the Berkshire/Hampshire/Surrey borders from new, it was first registered to the Governments Transport & Road Research Laboratory (TRRL) in Crowthorne and has stayed local for its entire life. My father worked for the TRRL and I grew up in Crowthorne so I know how well the bike would have been looked after and I must admit to feeling a strong affinity for this machine. Believed to have been used to develop anti-lock brakes, in which case it would have been fitted with all sorts of special equipment on the front wheel and indeed while the rear rim is an original Dunlop item the front is unstamped and likely to be a replacement when the bike was returned to standard specification. At this time the taxation class was shown as "Crown Vehicle" and there is a record of every owner from new in the form of copy V5s and V5Cs. The ownership history is fascinating but really very simple; just four owners; all very local to Crowthorne and the first and last owners had it for over 43 of the bikes 48 years! The middle two short-term owners were next-door neighbours. The document file is comprehensive and impressive.
Whilst the first owner (TRRL) has provided a fascinating history the last owner has rebuilt and restored this machine to the condition you see now, and it is more than skin deep having been ridden to the IoM and other events and maintained to a high standard. It has proved a reliable electric starter and runner and it is testimony to the quality of the restorers work that the rebuild was completed around 2016 and it remains in such fine mechanical and cosmetic condition. It also helps that the mileage has been low, MOT records show that it had only covered 4,501 miles in 2006 and 7,804 ten years later which leads me to believe the recorded mileage may be accurate and it is indeed a very low mileage machine. Certainly less than 1,000 miles since the rebuild anyway. Please note there is a very small dent right side top rear of fuel tank where your knee goes, hard to see but it is there. Sadly the last owner is no longer with us and the bike hasn't been used for a few years but it will be supplied fully recommissioned and serviced by Classic Bike Workshop regardless of cost for the advertised price.