Norton Commando 850 MkIII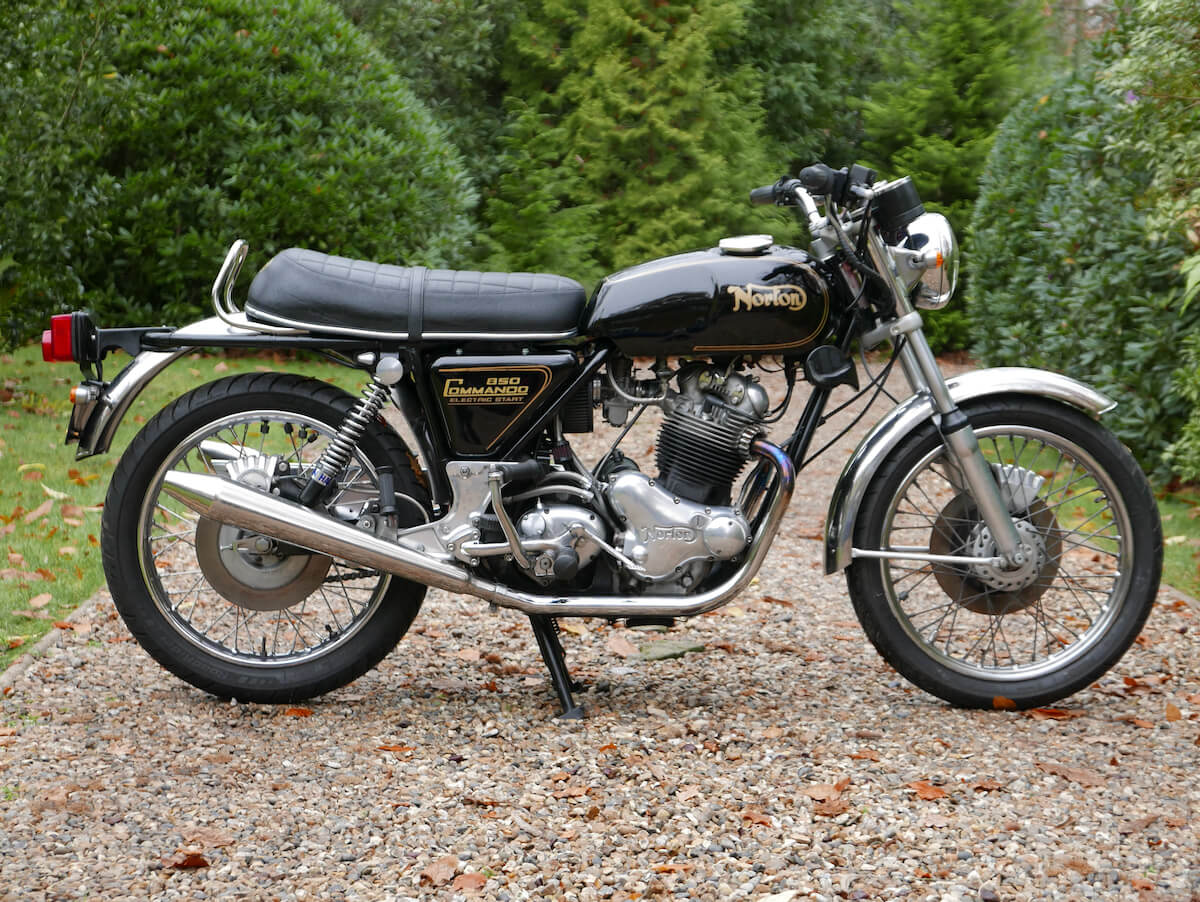 Model:
Commando MkIII Electric Start
The latest Roadster made by Norton and the best if this example is anything to go by. Beautifully painted in black and gold (metal tank in excellent condition inside and out) and adorned with sensible extras and upgrades to give performance and reliability. The Commando is not a heavy machine and with the punch from a well tuned (single Mikuni carburettor) 850 engine driving through the excellent 5-speed (left foot change) gearbox it is a joy to ride. A joy to start too, thanks to a recently rebuilt and upgraded electric start mechanism. In fact Classic Bike Workshop have just been through the whole thing, installing new Pazon electronic ignition and replacing the sprag clutch and associated electric start parts. The excellent Mikuni carb was treated to new parts and set up to provide perfect fuelling throughout the range and easy starting on choke without any of the tickling associated with the standard Amal carbs. The blued downpipes are a legacy of past misdemeanours and whilst we don't find them offensive if you chose to replace or re-chrome them they wouldn't be that colour. The front wheel has some corrosion albeit an original Dunlop rim which is nice, other than that it's not far from concours although not entirely standard (indicators, braided hoses for example) and it's come from the California so probably hasn't seen much rain. The history file with this bike is enormous, all from the USA and it includes manuals, books and parts lists, parts and service invoices, technical articles and notes on this machine. One UK owner never quite got to grips with it but a few days in the workshop have returned this bike to one of the best Commandos I have ridden. Everything works, it rides like the wind and handles like a dream but the best bit? The sound of that mechanically excellent engine beating through those classic Commando peashooter exhausts…there can't be anything in them. Lovely.