Norton Commando 750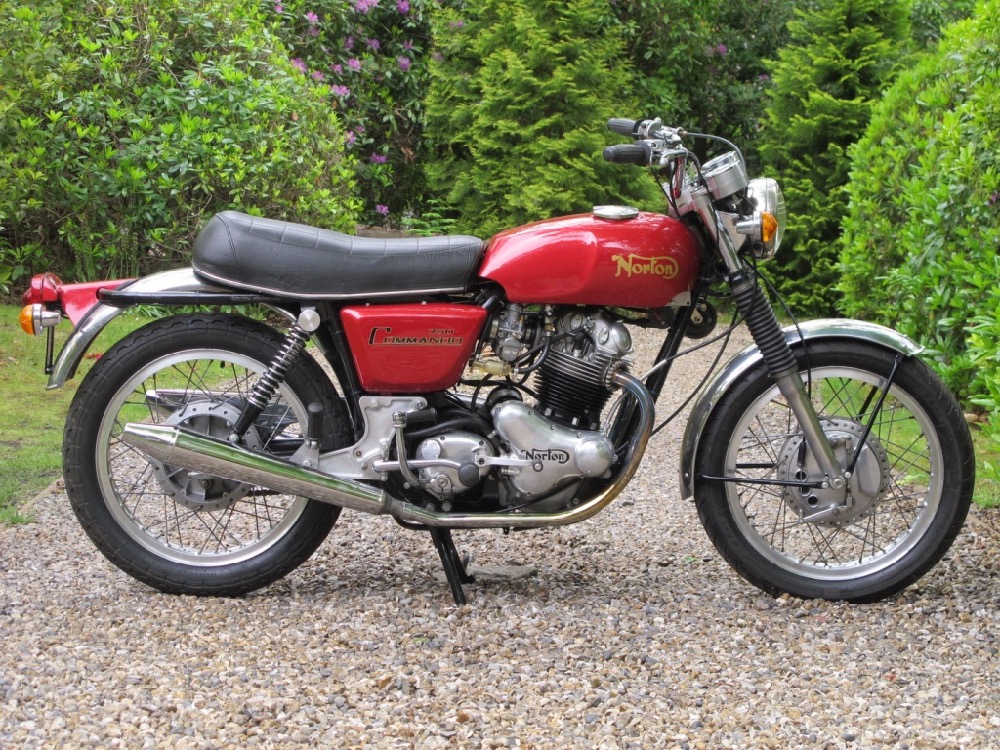 Model:
Commando 750 Electric Start
An early Commando with late modifications including an efficient electric start!
This is a rider's machine; starts on the button every time, idles smoothly and pulls very strongly breathing through Mikuni carburettors and sparking on electronic ignition. Formerly owned and possibly built by an active member of the Swedish Norton Owners Club (stickers and badges included) it rides really well and looks classic Commando through and through. Particularly attractive with the early front end and lovely twin leading shoe brake. Later touches include indicators and additional instruments including a useful oil pressure gauge. Purists need not apply however because the more you look the more you realise the extent of the "modernisation" which has taken place. It has the later (and better) frame and of course it is not a matching numbers bike for this reason. The engine numbers are original and unmolested, the frame doesn't look like a factory stamp but it does match the Swedish registration documents so it probably bears the number of the earlier frame. It can be UK registered as a 1970 machine; which most of it is and that's certainly the look that has been well preserved. It is pleasant to ride and performs well with very little smoke (after the oil in the sump has pumped itself back into the tank of course), it has a spin-on oil filter and it's mechanically smooth and quiet. The tank is original fibreglass and treated inside to allow use of modern fuel which flows through the largest fuel filters and petrol taps we have ever seen on a bike…no problems going onto reserve with this one! If you love Commandos but hate some of the inherent problems found on a standard machine this is an attractive proposition and very well priced because the modifications add practicality more than monetary value.