Honda VFR800 Limited Edition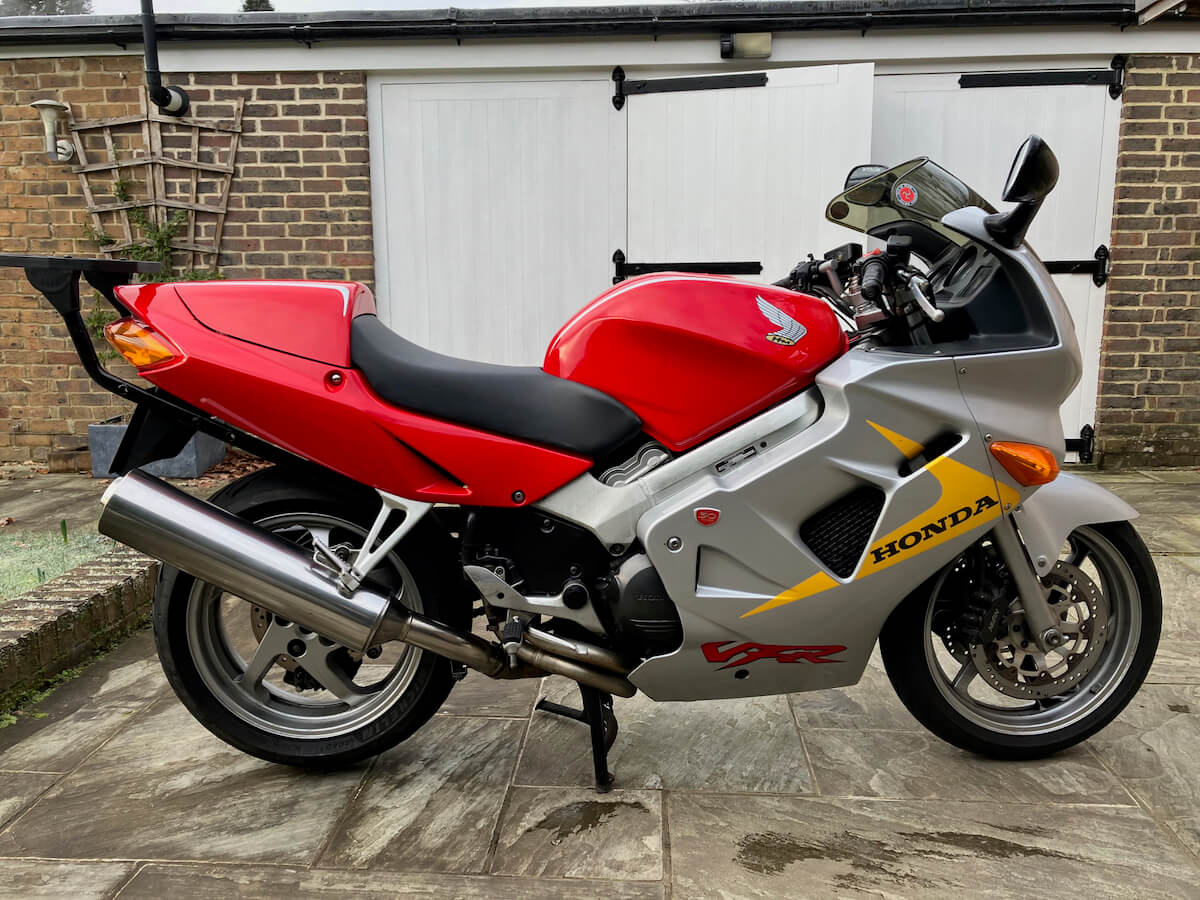 Model:
VFR800 50th Anniversary
To celebrate Honda's 50th anniversary in 1998 a special edition limited run of only 250 machines was produced. Based on their legendary 5th generation, gear driven camshaft VFR800 and painted in the iconic 1960s racing livery it remains the most desirable and collectable emerging V4 classic. This year sees the 75th anniversary so it's another milestone and increases the historical significance of this limited edition model, especially when preserved in standard original specification. This  bike has both original 50th Keys and a collection of paperwork including the original purchase invoice, Owners Handbook, Service Book and the two Honda Cards provided at purchase showing that it is an original "Anniversary" machine. Only three owners from new and 41k miles isn't considered high on this very capable sports-tourer. The engine was set up and the valve shims checked at 34,000 miles by Mark Hutton of A&H Performance together with new plugs, air filter and other sundry parts. The original rear shock was changed at 38,000 and the fork seals have also been replaced. Other than this a normal servicing regime has been carried out annually each spring. The battery is recent and the bike has Michelin Road 5 tyres which have plenty of tread. The bike has been serviced regularly and has covered 1,000-1,500 a year for the last six or seven years with a competent and fastidious owner.
As you can see the bike is in standard trim, apart from being fitted with a pair of "Heli-Bars". They are about an inch higher than the standard Honda items, which are still with the bike and can be swapped over easily. The colour matched seat cowl removes for two-up riding and the original pillion grab handles and fittings are provided with the bike, as are a rack and fittings and Nonfango panniers. Please note the bike is covered with ACF50 during the winter break, and this has not been cleaned off for the photos so it will look much fresher after a bit of elbow grease.